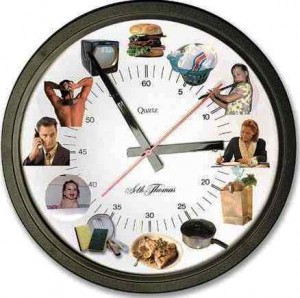 The online-based freelancing website Elance has a blog article on managing time when working as a freelancer using SEO software or search-engine software. Here is the first tip:
1. Weak or Absent Goal Setting: Are your goals well thought out and clearly defined? If not, your productivity will take a hit. Specific projects, job-hunting strategies, bidding practices, and your long-term career plans all need clearly defined goals and milestones to maximize output. Otherwise, you're spending valuable energy constantly re-evaluating where you stand, how far you've come, and where to go next, robbing yourself of not only work time, but also a clear map to success.
Elance's recommendations are sound: setting goals and priorities, focusing on the task at hand, scheduling your time wisely, and avoiding distractions. And the can also be incorporated into ways to manage the time spent on online marketing, Internet marketing, and social-media marketing. Here are some methods that I have seen to work (at least for me — everyone is different).
First, let me explain my personal and professional workload. Here is a sample of what I do every day (except on the Jewish Sabbath from sundown Friday to sunset Saturday):
Write and publish a blog post here and on Considerations
Write tweets for my Twitter account that are published regularly
Optimizing past blog-posts for SEO and search engines (those I wrote from 2006 to 2009)
Working for clients
Getting new clients by researching them and submitting business proposals
Working on the Law School Reference website
Oh, yeah — eating and sleeping as well
Since I am pretty much on my computer for sixteen or more hours a day, it is easy to lose track of time with Facebook, Twitter, reading other blogs, checking the headlines, catching up on e-mail, and other myriad distractions. So it is important to schedule single blocks of time for each task at hand — and to focus only on them. Multitasking is less efficient even though it is a common buzzword in the Internet Age, and few people can multitask well.
Whan an SEO Blogger Needs to Do

Here is my list of priorities for the tasks described above:
Working for my company's clients. The top priority, of course, is that which pays my bills immediately and puts food on the table. I work 25 hours a week for one client and ten for another. That translates into six hours a day. So I have a block of six hours set aside each day for client work.
Writing blog posts. I set aside two hours each day to write a blog post for Considerations and do work on Law School Reference, optimize it for SEO, approve comments, do administrative updates, and respond to comments. I schedule the post to publish automatically the following day. (This is useful if, like me, you cannot work one day a week.) Considerations is important because it is my main online-presence, and constant publication is a way to help with search-engine marketing (SEM).
Writing and scheduling tweets. I publish one tweet per hour on various topics: articles that I find interesting, personal updates, and affiliate-marketing advertisements. (New posts from Considerations and Law School Reference are automatically sent to Twitter as well.) But I write the following day's tweets in advance and schedule automatic publication with the Twaitter application. This is a way to generate social-media traffic to Considerations and Law School Reference. This takes two hours.
So far, these three tasks take an average of ten hours a day. The remaining hours I spend on answering e-mail, responding to Facebook messages and tweets, submitting proposals to prospective clients, and so on. (Anyone who says effective online-marketing can be done in just one or two man-hours a day is selling something.) Sometimes it takes a little additional time, sometimes a lot more.
But there are a few other pointers that I have learned. As the Elance article notes, it is easy to fall into an unhealthy lifestyle while working from home on your computer all day long. Food delivery is tempting — though always expensive and usually unhealthy.
Since I love to cook, I usually spend a few hours each week making enough of a few dishes to last me at least several days. For example, I might make:
Six baked chicken-breasts (try adding a dijon-mustard glaze with dill on top)
A large bowl full of an Israeli-salad mix
Several Mediterranean-style small pizzas (try a piece of pita bread with a bit of olive oil, adding a basil-based tomato sauce, sprinkling salt, pepper, oregano, garlic, and paprika or chili flakes on top, and then put the shredded cheese before putting in the oven)
Making a lot of food at once saves time because each additional meal needs only to be microwaved or put into a smaller bowl. It's healthier — and quicker.
Second, be sure to go outside. It's not healthy to sit on your own couch or in your home office for many hours each day. I try to take a walk around my Jerusalem neighborhood or run a few errands each day. And do not forget about the outside world — shut your computer and optimization software off, and go have a few pints with friends! There is a non-electronic world out there.
After all, what's the point of working so hard on SEO software if you never have time to enjoy the results?
Samuel J. Scott, a former journalist in Boston turned Internet marketer in Israel, is the founder and publisher of My SEO Software and Director of Digital Marketing and Communications and SEO Team Leader at The Cline Group. You can follow him at Google+, LinkedIn, Facebook, and Twitter. His views here and elsewhere do not necessarily reflect those of his company and clients.