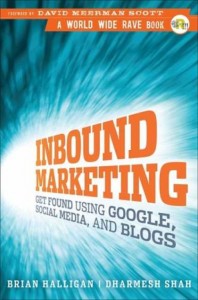 JERUSALEM — If you build it, they will come. And by "it," the authors of "Inbound Marketing: Get Found Using Google, Social Media, and Blogs" mean a quality online-presence supported by effective Internet SEO.
In the olden days of marketing — say, before 2000 — most marketers and public-relations professionals used some type of a "push" strategy. They would send press-releases en masse (through something called a fax, and perhaps even through e-mail in later years) and then call reporters and editors to beg them — politely, of course — to cover their story. People needed to convince the media gatekeepers that their story worth covering. Journalists — always a cynical-and-skeptical bunch — made the rules and held the power.
When I was a journalism major at Boston University, I worked for six months as a full-time editorial assistant for the Metro desk of the Boston Globe in 2000. I was the person who, among other tasks, took the calls and faxes from local public-relations firms. My editorial-assistant colleagues and I would receive hundreds of press releases every day, and we would quickly sort through them by giving less than a half-second thought to each one. We would rip through the pile like a robotic sorting-machine, chucking ninety percent of them into the trash without a second thought. (What a waste of paper!) We looked only at the headline (and sometimes the first line as well).
We placed the few that may have been newsworthy in a bin on the city editor's desk. In theory, he would have taken it from there. But he rarely did. Most of the releases that we put on his desk also went into the trash. After all, as the city editor, he already knew the news of the day from his assistant editors who each covered specific subjects like crime, politics, and the courts; from radio and television-news updates; and from his own sources as well. The city editor did not need the press releases.
Those marketers who were slightly more savvy would call people like me directly. The public-relations flunkies would try to sweet-talk us (especially if it were a woman talking to a male editorial-assistant) into passing the call to the city editor, but we never did. (The often-repeated lie: "Sorry, he's in a meeting right now.")
The city editor once joked — to a tour group visiting the Globe, no less — that people could tell when he was in the newsroom because there would be a black cloud following him. Years later, when I was a Boston journalist and then editor and publisher of Spare Change News, I understood what he had meant. Newspaper, magazine, and television journalists simply do not have time to listen to PR pitch after PR pitch. I cannot find the exact scene from my favorite movie — "The Paper" — that demonstrates the hectic lives of reporters, but here is the trailer:
In case you have not been paying attention, the world of public-relations professionals pushing their stories onto journalists effectively disappeared long ago. David Meerman Scott (no relation) first brought this new reality to the general public with "The New Rules of Marketing and PR," and now, "Inbound Marketing" takes it one step further.
A Good SEO Title and Book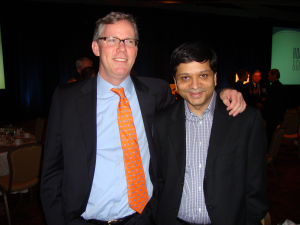 The book — authored by Brian Halligan and Dharmesh Shah (pictured), co-founders of the Boston, high-tech-marketing firm HubSpot — starts where the general, philosophical overview of Scott's "The New Rules of Marketing and PR" left off and goes into more detail. Whereas Scott's book — the author wrote the forward to "Inbound Marketing" — introduces the reader to the new world on online marketing, Halligan and Dharmesh's tome provides the nuts-and-bolts to implementing an Internet-marketing strategy. The latter book is surprisingly short for its depth, but it is still a dense, quick read.
"The New Rules of Marketing and PR" drove a single point home: Marketers no longer need to go to journalists and customers; instead, reporters and clients come to them through blogs, websites, social media, Internet advertising, online video, podcasts, white papers, and search engines. "Inbound Marketing" tells companies — and individuals — how to make that happen. (Disclosure: I received a review copy of the second book from the publisher.)
"Inbound Marketing" discusses the practical steps that marketers can take with regards to optimizing websites for search engines, using social-network websites effectively, developing videos, airing podcasts, and gaining website visitors and sales leads through using natural, "pull" strategies rather than "push" ones that interrupt (and annoy) journalists and consumers. The beauty of inbound marketing is indeed that reporters and people in general are already using search engines, social media, and blogs to find that content that interests them. If you use online marketing well, then there is little additional effort required on your part to attract them.
However, there are many websites and books that offer the same advice. "Inbound Marketing" surpasses the competition by containing:
A to-do list at the end of each chapter that inspires direct action
A section focusing on optimizing conversion pages specifically (a frequently-ignored topic)
Another chapter with numerous charts and graphics showing readers how to analyze website metrics and make better marketing decisions
An appendix with links to online tools — located, of course, at Hubspot — that can help marketers rate and improve their websites; and
A section offering tips on hiring PR agencies and marketing staff in the age of inbound marketing
Now, many people — especially those who already understand this paradigm shift — will read this book and say, "Duh." But the fact remains that there are marketers who are stuck in the old rules and do not understand the new world. ("Inbound Marketing" seems to be meant for them.)
Since I was a Boston journalist, my biography and blog still appear in Google searches and online databases for Boston journalists. As a result, I still receive spam from Boston that is irrelevant since I now live in Israel. After the death of Senator Ted Kennedy, I was placed on e-mail lists for the press releases coming from the campaigns of several candidates in the Democratic primary before the special election to replace him. Because I was going to cover the campaign from 12,000 miles away, of course.
The campaign volunteer or intern who compiled the PR database was stuck in the old mentality, and his efforts were likely wasted. As I described above, the rate of return on mass press-release distribution is extremely low. If there is a single benefit to marketers using inbound marketing techniques rather outbound ones, it will be that we all receive less spam.
Still, there is just a minor problem with the book. Halligan and Shah focus primarily on the need to create quality content rather than placing the marketing of that content on an equal footing as well.
Based on my experience, I learned that content by itself rarely brings significant traffic — at least within a relatively quick length of time. I started blogging on a whim in 2006 when I was editor of Spare Change News in Boston, and I discussed the same subjects I discuss now. It took me four years to reach 1,000 hits a day on my prior WordPress blog for Considerations. Even though I had changed careers from journalism to online marketing after moving to Israel and working in the high-tech sector here, I did not apply any of the strategies I had learned to the blog since it was only a hobby. In short, it took four years to build a decent audience by relying only on what the authors of "Inbound Marketing" call "remarkable content."
How many companies want to wait four years for their sites to draw reasonable traffic?
In January, I changed the blog to its current URL and lost a lot of traffic, but I am hoping to rebuild it quickly through the use of effective online-marketing as well as producing interesting content. I wish Halligan and Shah had added at least a chapter on items including the building of backlinks through places like online directories, Yahoo! Answers, and blog-aggregating websites as well as the basics of optimizing HTML code and organizing a website's structure for search engines. But this is a small point.
"The New Rules of Marketing and PR" and "Inbound Marketing" will undoubtedly open the eyes of many veteran marketers who are struggling to adapt to the digital world, and they are good refreshers for anyone who already knows about online marketing. Both books together are an effective introduction to Online Marketing 101.
Samuel J. Scott, a former journalist in Boston turned Internet marketer in Israel, is the founder and publisher of My SEO Software and Director of Digital Marketing and Communications and SEO Team Leader at The Cline Group. You can follow him at Google+, LinkedIn, Facebook, and Twitter. His views here and elsewhere do not necessarily reflect those of his company and clients.